Notes on the
Wellington Arms pub Rooksbridge
These notes have been compiled from the records I have available and from memory!
With a memory like mine, do not regard all the entries as gospel!
Any corrections, additions, and photos will be welcome.
Especially from the 1900's.
I am also indebted to material from Sheila Bellingham of Rooksbridge, Jenny Binning, Margery Fear and many others for much of the above information. (JR)
Wellington Arms pub Rooksbridge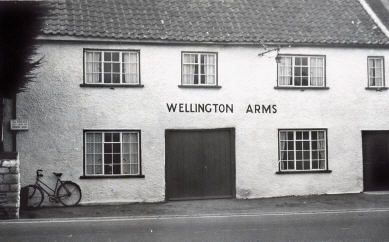 The earliest known deeds for the property go back to 1770.
When a Mrs HATCH and a Mr CURRY were mentioned.
In the early 1800's a Richard COLSTON was mentioned as an owner. When he died he left it to his daughter Diana.
Note: (In 1805. Richard COLSTON and other dissenter signatories, applied for and were granted a certificate from the Bishop of Bath and Wells allowing the "Home of Richard COLSTON to be used for Methodist worship".
In the 1840 tithe map apportionments, Richard Colston is also listed as owner of the property next door which became the Post Office.
So.. Did he at some time own both properties? And were Methodist religious services held one or other of these)?
See: www.rooksbridge.org.uk/history/methodist.html
In 1831 There was an assignment of the cottage and garden from an Edward BOWERING to a James MILLARD.
1837 George GANE assigned to a Daniel EVANS who in turn assigned it to a John PIKE for £75, listed as a 'Dwelling house & premises'.
1841 census. No entry for a pub or licensee in Rooksbridge found?
But a "Lamb Inn" somewhere? In East Brent is listed!
William BAKER 70 'Publican
Hannah BAKER 60 Wife
Henry BAKER 25 Son?
(Note: Ages in 1841 census rounded to nearest 5 years).
C. 1841-51 First mention of a licensed premises.
Sometime during this period, the property was rented to Isaac BOLEY (Shoemaker) and William TUCKER. (William TUCKER was the husband of Diana COLSTON).
Isaac BOLEY'S wife Elizabeth became the Licensee
1851 (Kellys Directory) Betsey BOLEY Licensee
1851 census Wellington Arms,
Betty BOLEY Widow 45 Innkeeper
John BOLEY Son 19 Shopkeeper
Susan BOLEY Daug-in-law 19
Ellen BOLEY Sister-in-law 60 Barmaid
Lodgers at the pub.
Jeremy PETHERHAM 73 Pensioner from (Kilbeggan Ireland) born East Brent
William TUTTON 38 Chelsea Pensioner? Born Mark
John HAM 26 Farm Servant Born East Brent
Isaac HAM 22 Thatcher Born East Brent
UNKNOWN 28 Sailors Wife
UNKNOWN 5 daughter?
1861 Census
Elizabeth (Betsey) BOLEY Widow 56 Victualer
Boarders
Joseph EDWARDS 38 Pensioner
John HARDY 28 Ag. Lab.
Athur FRY 38 Ag. Lab.
Some confusion arises here. ? The very next entry in the 1861 census enumerator's record book shows son John BOLEY listed as a Butcher? It is unlikely that his shop was next door? As at this time the Grocer's shop next door appears to be in the hands of the Arthur COOK family.
It is possible that Butcher's shop keeper John BOLEY, and his wife Susan with their 5 young children were living at the time with his widowed mother Betsey at the Wellington Arms.
Listed within the John BOLEY household were……
John BOLEY 27 Butcher
Susan BOLEY wife 27
John Isaac BOLEY son 9
Edward BOLEY son 6
Elizabeth BOLEY dau 5
James BOLEY son 3
George BOLEY son 1
Ellen NASH housemaid
Joan PAULTNER? 51 Lodger.
1871 census
By 1871 John BOLEY was recorded as Inn Keeper at the Wellington Arms.
John BOLEY 37 Inn Keeper
Susan A BOLEY wife 37
James BOLEY son 13
George BOLEY son 11
Susan B BOLEY dau 8
William BOLEY son 5
Boarders at the pub
William SAGE 45 Doctor
James ALBERT 56 Cordwainer.
1875 Betsey & John BOLEY Innkeeper. (Kellys Directory)
1878. Diana COLSTON the owner died.
The premises were Auctioned off to a Thomas ADAMS.
Elizabeth (Betsy) BOLEY and her son John were the licensees.
Betsy BOLEY died soon after in 1878
By the 1881 Census John BOLEY had also died. And Susan BOLEY appears as widow.
1881 Census
Thomas HILL 35 Licensed Victualler Wellington Arms
Caroline HILL wife 35
Jane PINE 19 Servant
Caroline DAY 11 Visitor.
1883 Mrs Harriet HILL listed as landlord of Wellington Arms (Kellys Directory)
A Harriet HILL 42 is listed in 1881 census wife of George HILL carpenter. Could this be Thomas's sister or sister-in-law.
1889 William CURRY (Kellys Directory)
1891 Census.
William CURRY 43 Licensed Victualler Wellington Arms
Mary CURRY Wife 43
Reginald CURRY Son 3
1901 Census
William CURRY 52 Licensed Victualler Wellington Arms
Mary CURRY Wife 52
Reginald CURRY Son 13
William CURRY kept a few cows behind the pub. And turned them out on the side of the road to graze in the summer!
Photo courtesy David Walden.
Is the gent in the centre with the magnificent white mutton chop whiskers, William CURRY?
He appears again in the large group photo below. 2nd from the left!
Does anyone have any ideas on the photo below? What was the occasion that warranted such a large group and photograph? Did the motorcycle play a part
Photo courtesy of Bill Viles. Rooksbridge.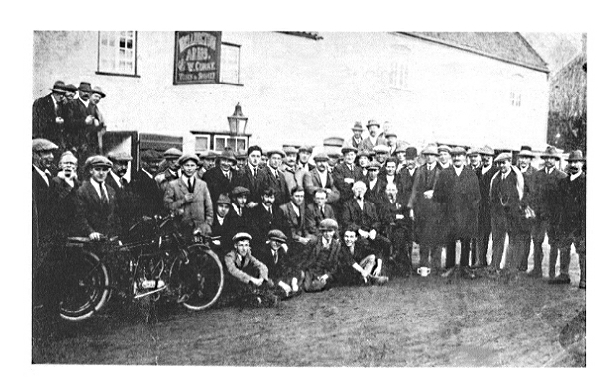 1919 (Kellys Directory)
William CURRY Wellington Arms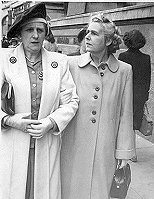 1935 (Kellys Directory)
Florence Maud CROOK Florence took over the pub when her husband Ben Died.
Florence then married George EMERY Snr. Who had previously lived in the mission house next to the chapel in Gills Lane and later at Mudgely Wall House.
After George Snr died, a nephew, Jud? Ran the pub.
Florence EMERY formerly CROOK seen here on the left with her sister-in-law Alice Hatcher nee EMERY.
(Photo courtesy Marjory Fear)
The dates below are approximate. (From Memory)! Help needed!
George EMERY's son George Jnr. Married Dorcas CROSS from Brent Knoll and they moved into the pub in 1958
1960's Wellington Arms
Skittle team
How many of these lads do you know? We think they are:

Back row L-R:
Tony Bryant, Maurice Sandiford, Mike Ham, Jimmy Harding, Freddy Bastable, Don Pople, Mick Bryant and Dennis Sandiford,


Front Row Seated:
George Harding, John John Emery,
Roly Ham and George Emery Jnr.
Some are sadly no longer with us, but others are definitely alive and kicking!
What can you tell us about any of this happy bunch?
In 1958 The tenancy of the Wellington Arms was held by HOLTS BREWERY of Burnham-on Sea.
This later passed to STARKEY KNIGHT and FORD of Bridgwater and eventually to WHITBREADS.
1978 Whitbreads Sold to Mr and Mrs MERVYN REYNOLDS.
1981 Sold to Mr R GREENSLADE.
1983 Sold to Lady D. MAXWELL-MITCHELL and Mr G FOX
1985 Sold to Mr and Mrs John POLLEY
1990's? Unknown?
For a period during the early 2000 the Wellington in remained closed until reopened by Gary and Rachael ANDERSON (Gary is a World Championship Darts player)
2011 Steve GRUBB and Jenny FORD
I believe The Wellington Arms is now a "Free House"?