---
The Fry family can be traced back to Rooksbridge in Somerset. We can be fairly certain of this as it is verified by two independent sources. The first is the Fry family bible, which records Isaac's birthplace as Rooksbridge in 1824. The other source is the 1851 census. On this census Isaac himself says that he was born at Rooks Bridge. Rooksbridge was at that time a small rural community in the parish of East Brent.
The Rooksbridge community was too small to support a church of its own. This meant that the Frys had to travel into nearby East Brent (which was about 3 kilometres away) to worship and have their children baptised. While church and electoral records give East Brent as the place where the family lived, I suspect the family home was located in Rooks Bridge.
Isaac's grandparents were James and Ann Fry nee Edwards. Ann may have been the daughter of James Edwards of East Brent. They were married in the East Brent church in 1769. A record of their marriage appears in…
A register book of christenings, burials and marriages within the parish of East Brent bought Anno Dom: (in the year of our Lord) 1719 by us Richard Hardwidge and John Browne, Church parsons.
They were married by licence on the 14 December 1769 by the vicar Thomas Sparry. James signed his name in the marriage register in a neat hand, suggesting that he may have been able to read and write. Ann Edwards signed with an X. It's worth noting that the couple were married by licence. Marriage licences were expensive and seen by some as a status symbol. Usually only the more wealthy members of the parish were able to afford them. One of the advantages of a marriage licence was that it allowed the marriage to proceed without the reading of banns in the church over 3 consecutive Sundays. Banns made public a couples intention to marry. Anyone who knew of a lawful reason why a couple should not marry had the opportunity to make this known to the minister.
James Fry was a farmer and landowner in the tithing of Snighampton, East Brent according to a land tax assessment made on 22 April 1767. The parish of East Brent was divided into four regions or tithings, one of which was known as Snighampton. Rooks Bridge appears to have been included in the Snighampton tithing. A rate of 5 shillings was levied against his name that year. There is an entry for the previous year, 1766. The surname Fry appears with the given name erased by a watermark on the page. A tax of 6 shillings and 8 pence was levied on the property. The tax collectors that year were William Dinwidy and Richard Day junior, two local men from the parish. Land tax records only exist from 1766 up until 1832. Records do not survive for the years 1768 through to 1781, a gap of thirteen years. The Frys were more than likely landowners in the parish well before the start of these records in 1766.
James Fry and Ann Edwards had at least six children, three sons and three daughters. The eldest Hannah was baptised in 1771, Ann in 1772, James junior in 1774, Deborah in 1777, John (Isaac's father) in 1780 and William in 1782. They were all baptised in the parish church of East Brent.
On the 9 January 1782, James Fry senior was buried in the East Brent church. On that same day his son William was baptised there.
In June of 1782 an entry appears in the tax assessments for the widow Fry. This was Ann Fry, James's wife. She is shown as the owner and occupier of four properties in the tithing of Snighampton. Two of the properties appear to have belonged to Ann's father the late James Edwards. They now belonged to Ann. The Edwards and Fry properties appear to have been next to, or very close to each other. Their names follow each other on the land tax assessments.
A little over eighteen months after James's death Ann remarried. In 1783 she married Thomas Stevens of Barrow. They were married on the 10 August by licence in the East Brent church. Ann no doubt would have been left in difficult circumstances when James died. She had a farm to run and a young family of six to support. The oldest child was Hannah who was about 12 and the youngest was William who was probably only a couple of years old.
There are no tax assessment records available for the years 1784 and 1785. In 1786 Thomas Stevens appears as the owner of land that once belonged to James Edwards.
Sometime between 1783 and 1788 Ann's second husband Thomas died. Ann was left a widow once again.
In 1788, (the year that saw the first settlement of Australia by Europeans) the widow Stevens (Ann) appears in the land tax assessments with Thomas Haines. Thomas Haines married Deborah Fry in 1774. Deborah was Ann's daughter from her marriage to James Fry. Ann Stevens was the owner of the land and Thomas the occupier. Similar entries appear for the years 1790 through to 1797.
In 1798 John Fry, Ann's son (Isaac's father) appears for the first time in the land tax assessments. He was about 18 years old by this date and recorded as the owner of the land. Thomas Haines was still the occupier. In 1805 John Fry was the owner and was also listed as the occupier along with Thomas Haines. Deborah and Thomas Haines were John Fry's aunt and uncle. It would appear that the land was handed down to John about the time of his eighteenth birthday. From 1801 through to 1832 when records of the last land tax assessments were made, the owner and occupier of the property was John Fry.
Isaac's parents were John and Ann Fry. According to the registers of the East Brent parish church John Fry was baptised in 1780. His wife Ann, nee Norvill, was baptised there in 1782. Her parents were James and Mary Norvill.
John and Ann Fry had at least 8 children baptised at East Brent, 6 sons and 2 daughters. The oldest child James was baptised in 1805, Joseph in 1806, Ann in 1808, John in 1812, and Thomas about 1816. A second daughter Jane was baptised in 1821, a son Francis in 1822. Isaac and his twin brother Abraham were born in 1824. Tragically for the family Abraham, Isaac's twin died when he was 4 months old. Another son Robert may have been born about 1810.In 1832 John Fry appears in the Somerset electoral registers as the owner of a house and land in the parish. The house referred to here could quite possibly be the same house, which appears in a very old family photograph. The photo is of a charming old-English farmhouse. A family story has it that it once belonged to the Frys back in England. Perhaps the house in the photo is the same house in which Isaac was born in 1824. The house no doubt was built many years before. I suspect the family occupied the property and the house for at least several generations perhaps even more.
Sometime between 1832 and 1841 the house passed out of the family's hands. In a population census taken in 1841 there is no mention of the family living in Rooksbridge. This supports another family story, which says that back in England the family lost their money and their home. It is worth noting that by 1851, John Fry was destitute and boarding at a small farm (30 acres) owned by William Ball Hatch. William was just 24 years old and a widower. Sometime after 1832 John and his family's fortunes had taken a tumble for the worse. He was now a pauper and no longer living in the family home in Rooksbridge. His wife Ann had died in August 1847, age 66. John now at least 70 years old was living away from his large family.
In March of 1851 Isaac Fry was living at Brean in Somerset. He was listed on the census as a 25-year-old farm labourer who was born at Rooks Bridge. On census night Isaac was lodging with Frederick and Hester Lewis and their baby daughter Mary Ann. Their address was given as Chapel House, Brean.
Eliza Quire appears on the same census page as Isaac. On census night, Eliza was working as a house servant, employed by Henry Adams Hicks. The Hicks family owned Southfield farm, a property of 65 acres. Hicks employed five labourers, one of whom could very well have been Isaac. Hicks and his 21 year old wife Maria Board Hicks employed two other servants. Thirteen-year-old Fanny Board described as a housemaid and thirteen year old Jane Pin, who like Eliza was employed as a house servant. Eliza was 26 years old and according to the census was born in Cannington.
In 1852 Isaac and Eliza were married at Brean. The only picture we have of the couple together is one kept by descendants of Minnie Kelly, nee Sherwood. (See top of page.) It is a painting done on cardboard. Isaac has a faint smile on his face; the artist has captured his large, dark, smiling eyes.
click for...
more about Isaac and Eliza at Brean
Isaac's face is thinner, and longer, made more so by his full beard. His hair is wavy, parted to the side of his high forehead.
My grandfather Arthur Gordon Sherwood had this to say about Isaac in a letter to his sister Minnie. 'Grandpa Fry…had a wonderful voice if he got cross with anyone, and it did not take much to upset him.'
Soon after they were married a daughter Jane was born in March 1853. She was baptised on Christmas day 1854 at Burnham. The family were living at Edith Mead at the time. A son Frank Norvill Fry was born in June 1855. The family left Somerset in February 1859 and arrived in Melbourne the following June.
© R J Sherwood. 2001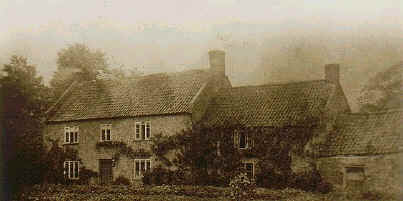 In 1832 Isaac's father John Fry owned a house and land in the parish of East Brent, Somerset. The house referred to here could quite possibly be the same house, which appears in this very old family photograph. The photo is of a charming old-English farmhouse. A family story has it that it once belonged to the Frys back in England.
Perhaps the house in the photo is the same house in which Isaac was born in 1824. The house no doubt was built many years before. I suspect the family occupied the property and the house for at least several generations perhaps even more.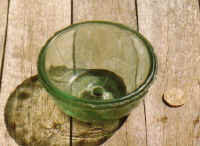 This is a photo of the Christening Bowl given to Eliza Fry by her mother Fanny Quire. It was given to Eliza just before she emigrated to Australia in 1859. Fanny was close to seventy when she gave the bowl to her daughter as a parting gift. Fanny was born Fanny Fisher about 1790 in Burnham, Somerset. She died in Edith Mead, Somerset in 1879, age 89.
The Christening Bowl is 60mm high, with a 120mm diameter opening at the top. The walls of the bowl are 8mm thick. There is a 10mm diameter hole in the base. The bowl tentatively dated at around the mid 1800's, is an emerald green colour.
The bowl is kept by Joan Lynch, Nhill, Victoria.
Photographed 1986. R J Sherwood.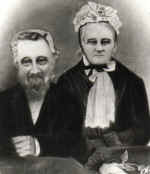 Isaac and Eliza Fry nee Quire
The original is a painting on cardboard.
Photo courtesy P. Kelly, Wodonga, Victor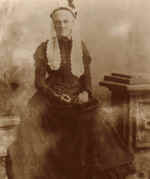 Eliza Fry nee Quire
1823-1916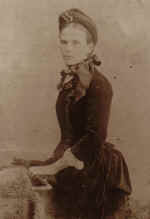 Minnie Sherwood nee Fry
1860-1927

Photographed c.1878
This was not one of Minnie's favourite photos. She is remembered as saying it gave her the appearance of having a "Bung eye."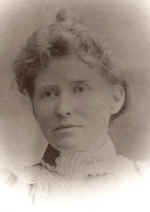 Minnie Sherwood nee Fry.
1860-1927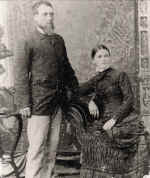 Peter and Helen Bone nee Fry
Helen was Minnie Sherwood's sister.
How the Quire family is connected to the Sherwood family.

Isaac and Eliza Fry, nee Quire's daughter Minnie married Arthur Sherwood in 1882.
The Quire name is also spelt Quier in some records.

Eliza Fry's father was John Quire and her mother was Fanny Fisher. John was baptised at South Brent, (also known as Brent Knoll) Somerset 7 August 1796. He was the son of William and Mary Quire and the second youngest of five children. His siblings were Elizabeth, James, William and Ann.
Fanny Fisher was born in Burnham, Somerset about 1790. Her parents may have been James and Elizabeth Fisher. This couple had at least five children all of whom were baptised in the Burnham parish church.
John and Fanny married on 24 April 1819 in St. Marys Church Bridgwater. Bridgwater is about 20 kilometres south of Burnham.
After marrying, John and Fanny settled in Cannington, 5 kilometres from Bridgwater. Their first two children were born at Cannington. William Ephraim in 1820 and Eliza, in 1823. Eliza Quire later married Isaac Fry. The couple and their young family emigrated to Victoria in 1859.
FOR FULL STORY OF THE FRY's VOYAGE TO AND LIFE IN AUSTRALIA GO TO:
www.members.optusnet.com.au/rjsherwood/
And click the Fry family link
JOHN QUIRE
1796: Baptised at South Brent/Brent Knoll, Somerset.
1819: Married Fanny Fisher at Bridgwater, Somerset.
1820: First child Ephraim baptised at Cannington, Somerset.
1826: Daughter Jane baptised at East Brent, Somerset.
1829: Son John baptised at Burnham, Somerset.
1859: John died at Edith Mead, Somerset.
FANNY FISHER
c. 1790: Born Burnham, Somerset.
1879: Fanny dies at Edith Mead, Somerset age 89.
Eliza Fry nee Quire's Family
Sometime between 1823 and 1826, the Quire family left Cannington and settled in East Brent. East Brent is only a couple of kilometres from Rooks Bridge where the Frys were living at this time. Eliza's younger sister Jane and brother Giles were baptised at the East Brent parish church in 1826 and 1827. In the baptism register, John Quire's occupation is given as servant. By 1829 the family moved again this time to nearby Burnham. A third son John was baptised there in November of that year. Another daughter Sophia was baptised in 1833. Sophia died in 1839 when she was just five years old. She was buried at Burnham by the curate Charles Scott.
Every 10 years starting in 1841, a detailed census of the population was taken. With the 1841 census, names, ages and occupations were recorded and whether or not the person was born in the county they were presently living. Local people were recruited as enumerators or census collectors. Their job was to visit each household or dwelling in the parish and record the names of those who spent the previous night there. It is estimated that as many as 10 percent of the population were either missed by, or avoided the enumerators.
On the 1841 returns the age of a person 15 years and over, was usually rounded off to the next lowest multiple of 5 years. For example someone who was 29 was recorded as 25. Sometimes the actual age was given. It all depended on the enumerator as to how ages were recorded. The census was taken during the night of Monday 7 June. Those who appear spent the previous night (Sunday) in the household listed.
The census gives us a remarkable snap shot in time of where our ancestors were on each census night and who they were staying with. John and Fanny Quire and two of their sons William Ephraim 20 and John 10 were living in Burnham. John was 40 and Fanny 45. (It's important to remember that their ages were most likely rounded down) John and William worked as farm labourers. Staying with the family was an Elizabeth Fisher, age 75. Elizabeth could very well have been Fanny's elderly mother. The word 'inmate' appears next to Elizabeth's name and has a line drawn through it. She may have at one stage been an inmate at a workhouse. Elizabeth died in Burnham in 1849, she was 89 years old.
John and Fanny's daughter Jane was just14 years old and living and working away from home. She was employed by James Hembry on his farm in Burnham as a servant. Her 15-year-old brother Giles Quire was working as a live in servant for John and Ann Board, who were also farmers of Burnham. Employed by farmer Board were two young domestic servants Harriett Letheby 16 and Emma Lauford 26. Giles later married Harriett Letheby. They married in Burnham in 1848. Giles was 22 years old and working as a butcher when they married.
John and Fanny's daughter Eliza, who later married Isaac Fry wasn't staying with the family at Burnham. She was. living in Mark, an adjoining parish, working as a female servant. Eliza and Maria Coomer, both 18, shared accommodation in the same building with a number of others. They were Albert and Martha Day, and their baby son John. Albert was a 29-year-old blacksmith. Two other young men, 22 year old James Banwell and 16 year old apprentice John Parsons, were also living there. The location of the dwelling was the Cawseway, Mark.
According to the census, John's brother James Quire worked as a tailor in South Brent. He was 45 years old. He and his wife Ann had at least 3 children, William 15, Ephraim 14, and 12 year old John. It's interesting to note that an Ephraim Quire, who was born in Somerset about 1825, later settled in Australia. It may have been 14 year old Ephraim who later settled in South Australia . William Quire, another of John's brothers was living in Purvingstow Lympsham, not far from South Brent. According to the census he was a 54 year old farm labourer. He was living with his wife Mary age 52 and their children Martha 15, Jonas 12, Jane 10 and Peter 7.
Ten years later in 1851 another census was taken. This census had additional information. The census collectors were required to record each person's exact age (where known) along with their place of birth.
In 1851 John and Fanny were still living at Burnham. This is where Fanny was born about 60 years earlier. With them were their daughter Jane 24 and son John 21.
William Ephraim (Eliza's brother) had married by 1851 and was still living in Burnham. William was 31 and his wife Maria was 34. They had 3 daughters, 5 year old Sophia, 3 year old Jane and Ann Maria just one year old.
By 1851, Giles who married Harriett Letheby, had two daughters, Mary 2 and Fanny age 1. Fanny was quite possibly named after her grandmother Fanny Quire nee Fisher. The family were living at Burnham and Giles was working as a butcher. His wife Harriett was listed as a 'butcher's wife'. In the house on census night was George Butt, a 15 year old servant and 72 year old Ruth Harden. She was described as a widow and a pauper and lodging with the family.
John's brother James and his wife Ann had left South Brent and were now living in The Clyze, Huntspill. John was 63 and wife Ann 59. He was still working as a tailor. Ann was listed as a tailor's wife and was born in Ireland.
John Quire was living at Edith Mead when he died in 1859. He was 63 years old. He was buried by Thomas? Williams the vicar of the Burnham parish church on the 6 February. His wife Fanny died at Edith Mead in 1879, age 89. She too was buried in Burnham.
By 1881 Eliza's brother Giles had left Burnham and was living in nearby Berrow. He was still working as a butcher. His daughter Fanny Quire had married Thomas Press. They were living at Princess Street, Burnham. Thomas was 29 and Fanny was 30. They had 2 young sons Ernest 1 and Archibald 3 months. Thomas and Fanny were Grocers in Burnham. They had 2 young assistants William Rice and William J Hutchings working for them. Staying in the family home on census night was 24 year old Ellen Quire, who was visiting the family. Thomas, Fanny and family not long after emigrated to Victoria where they were reunited with their aunt Eliza Fry. Eliza travelled to Melbourne from Nhill to meet her niece. This would have been in the early 1880's. According to my grandfather Arthur Gordon Sherwood, 'Granny Fry (Eliza Fry) was so excited about the prospect of meeting her niece that she bought a new bonnet when she travelled to Melbourne to meet her.' According to Arthur Gordon's sister Minnie Kelly nee Sherwood, Minnie and her mother Minnie senior visited Fanny at her home in Kew during World War 1. Minnie senior and Fanny Press were cousins. Fanny's son Archie was said to have visited the Sherwood family at Woorak West.
© R J Sherwood. 2001
Do you recognise this House ?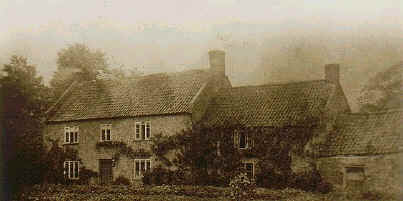 Fry Family Home circa 1859.
Location either Rooksbridge or East Brent, Somerset.
The photo was brought to Australia in 1859 by my great, great grandfather Isaac Fry. The house was owned by his father John Fry. The house passed out of the family's hands about 1830.
Hello
I have just come across your Rooksbridge web site and hope that you might be able to help me. My ancestors (Fry) lived in Rooksbridge prior to 1830. The family owned a house and land there around this time. I have a very old family photo of the Fry family home which I believe was located in Rooksbridge. I am sending a copy of the photo in the hope that someone might recognise it if it still exists today. I would love to learn about the history of the house ie previous owners etc if this is possible. I assume the photo was taken not long before the family left for Australia in 1859.
Looking forward to hearing from you.
Kind regards
Rob Sherwood
Melbourne,
Australia.
If you can shed some light on the whereabouts of the house in the photo, Rob would be over the moon!!
Thanks to Rachael Frost we now think it could be North Yeo Farm. White House Lane? But do not know how to confirm this?
Contact: John at: 'The Bungalow' Mendip Road
Tel: 01934 750274
or
Email: jonrig@rooksbridge.org.uk