The expansion into doorstep deliveries.


After the war, improved hygiene and distribution standards were introduced countrywide. Previous to this, milk was delivered daily to dairymen and customers mainly, un-refrigerated and in churns. Improved methods of transport, pasteurisation, cooling of milk and sterilising of equipment made processing more efficient, making it possible for milk to be stored for longer and distributed over greater distances, .

In addition to Cheese, cream and buttermaking, the installation of an APV continuous pasteuriser and a mechanised bottling system in the 1950's and early 60's enabled a period of expansion by the Rooksbridge dairy into further retail and doorstep deliveries etc.

Beside supplying bottled milk etc. to independent dairymen, a number of local dairy businesses were acquired or merged with the existing retail depots and outlets owned by Horlicks and CVD.

Greenway Dairies of Taunton, Courts Dairy at Burnham on sea and Rawles Dairy at Minehead were bought and run by CVD. As were dairies operated by Highbridge Bacon Co. Ltd at Highbridge and Weston Farmers Dairy in Locking Road Weston super mare.

By the early 1960's, the Horlicks Farms and Dairy division would have retail rounds depots and shops at: Burnham, Cheddar, Clevedon, Glastonbury, Nailsea, Taunton and Weston super mare.

To supply all these depots etc. The Rooksbridge dairy was now employing over 120 people and new offices, maintenance workshops, canteen and restroom facilities were built in 1968. And a brand new high speed bottling unit was planned.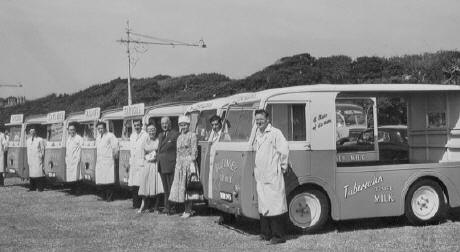 The acquisition of Taylors Dairy of Weston super mare was one of the early larger retail dairies to be bought by CVD. This combined with the Weston Farmers Dairy, would under the name of 'Horlicks Farms and Dairies' become the largest doorstep delivery operation in Weston and the surrounding area.

At its peak in the 1970's, to serve Weston alone, a fleet of nearly 60 milk floats would operate daily from the depot at Locking Road.

Seen here are Mr Cyril Taylor and some of the staff and milk floats from Taylors Dairy on display at the annual June Dairy Festival in Weston super mare in the 1950's Photo courtesy: R Brown.

The Locking Road premises became the Headquarters of the Horlicks Dairies retail operation managed for many years by Mr John Horlick. (No relation)!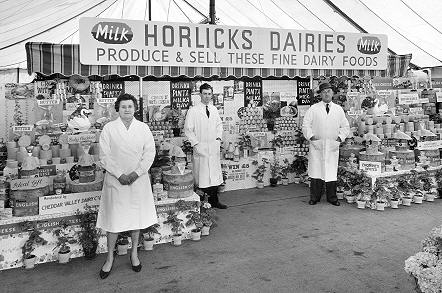 A 1960's display of Cheddar Valley Dairy products at the Dairy Festival.

Included: Traditional truckles of cheese in 60lb, 9lb and 4lb sizes. Milk, butter and cream including novelty 'midget cheddars' and 'Clotted Cream by post', popular with visitors.

Cyril Taylor (Weston retail manager) aided by a young assistant and Mrs French (Manager Cheddar)

Photo courtesy: R Brown.


Cheese making. The end of an era!


In 1972 the Horlicks Company was bought out by the Beecham group. Mainly for its Pharmaceutical division based at Slough. The sale included the Horlicks Farms and Dairies division including the Rooksbridge dairy and its retail division. and also the Cheese Dairy and the Cattle Breeding centre at Hort Bridge, Ilminster.

Maybe we had not realised it at the time, but the British dairy industry had reached its peak at around this period.

With increasing foreign dairy produce imports and competition from supermarkets, with their strong selling and purchasing powers adding further pressures on producers and suppliers margins... the decline in doorstep deliveries and the profitability of the old traditional ways of producing dairy products had begun. Changes had to be made to the way dairies operated.

Butter and cream manufacturing were among the first dairy products to be phased out at Rooksbridge. These had always been made in small batches, in keeping with the traditional farmhouse style, which was labour intensive.

Next came the end of traditional cheese making at Rooksbridge after over a 100 years.

In 1981 cheese production ended at Rooksbridge and was moved to Ilminster.

In order to stay viable, Beechams had invested more than a million pound in upgrading the cheese making operation at the Ilminster dairy. A fully automated mechanical cheese making process was installed. Which when running, virtually mass produced block cheese with hardly any manual intervention!

Milk went in one door and literally 'supermarket ready' vac-packed blocks of cheese came out of the other!

Another effect of ending cheese, cream and butter production at Rooksbridge was.... skimmed and semi-skimmed milk for bottling had to be bought in! This was at a time when the promotion of low fat products was getting into full swing.

The early 70's had also seen the phasing out of traditional churn collections from the farm. Local farmers had to install refrigerated bulk tanks from which the milk would be collected by tankers operated by the Milk Marketing Board.

Due to the extra expense of installing the new tanks and access needed etc. many of the small dairy farmer suppliers, were forced to called it a day!

Because of the way that raw ex-farm milk was now collected and distributed under the national control of the Milk Marketing Board. The long standing contracts and connections between the many local farmers and CVD had to be ended.

Milk would now have to be bought in by tanker from the MMB. with no choice of suppliers as before.

By now the dairy was solely reliant on liquid milk products and sales.

Milk was produced in:

bottles for doorstep delivery,

non-returnable polyjars, cartons mainly to shops and supermarkets

and 3gall and 5 Gallon milk-pak containers for catering establishments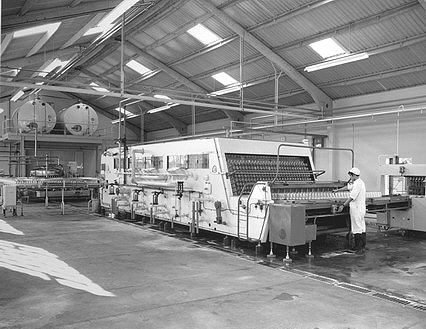 To keep the business viable, a purpose built Bottling Hall was erected on land adjoining the dairy. It was commissioned in 1969

With the installation of a high speed bottling line, capable of an output of 1000 crates an hour, production was able to keep up with the increasing demands made by supplying a wider area and larger wholesaler contracts.

Photo courtesy: R Brown.

'Unigate Dairies'..... the final chapter!


By 1985, The Rooksbridge production Dairy and all its retail depots and outlets had been bought by Unigate.

Unigate, a large National dairy company which had previously been formed by the amalgamation of the old United Dairies and the Cow and Gate Dairy.

With bottling plants and retail depots nationwide, those in the south and west were at, Totnes in Devon, St Erth in Cornwall, Marshfield in Sth Wales, Hanworth in Surrey and several smaller plants along the South Coast. Unigate also operated the St Ivel brand. producing Yoghurts, butter, cheese and other dairy products at factories at Evercreech and Wooton Bassett etc.

The acquisition of the Rooksbridge operation gave Unigate a greater presence in Somerset area, to add to its national coverage of milk sales and dairy products etc.

Soon after Unigate took over the dairy, many changes were made to many of the existing buildings and production processes.

'Brent Holme' the former managers House, was now being used for offices. A large extension was added to this and became, the 'Wessex Area' headquarters for all Unigate operations in the South West. At about this time a fully automated carton and poly-bottle filling area was built where the old cheese room had been. The building also housed new offices for production, transport, engineering and laboratory managers etc.

The Rooksbridge dairy was now distributing over 26000 gallons of milk daily to retail depots extending to the whole of Somerset, Parts of Devon, South Gloucester and into Wiltshire.

In addition to the former Horlicks retail depots, the dairy was also now supplying the three original Unigate depots in Bristol, at Ashton Gate, St Phillips and Stoke Bishop. And also at Bath and Swindon. The Rooksbridge dairy also helped to supplement production of the Totnes and Marshfield Dairies.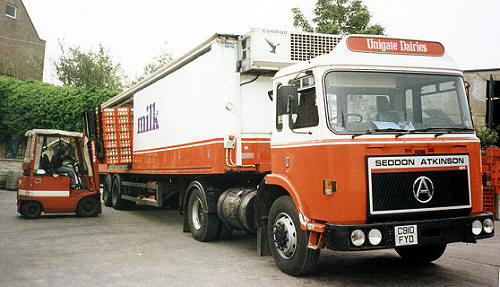 Wholesale deliveries in non returnable containers were also being delivered direct to shops including large contracts with Tesco and Sainsburys supermarkets daily.

A 42 ton refrigerated trailer carrying up to 1000 crates of bottled milk being unloaded at Stoke Bishop. Bristol

Photo. J Rigarlsford

Sadly, under Unigate, the investment in expansion and the viability of the Rooksbridge site was not to last. As with many dairy companies, foreign imports and the decline in doorstep sales and the increasing demands from the supermarkets for lower milk prices and produce, was to lead to crisis for much of the dairy industry and indeed the dairy farming and agricultural economy of the country in general.

To try to keep going, Unigate sold off its retail and production dairies north of the M4. Concentrating its efforts on its production and retail operations in the South and West of England. Of these, gradually all the production dairies along the South Coast at Worthing, Portsmouth, Southampton and Bournemouth

etc. would eventually be shut down.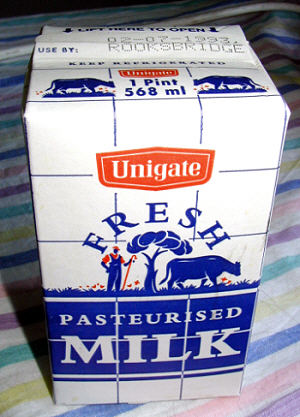 At the end of production, on the last day at the Rooksbridge dairy. A few empty commemorative cartons dated 02-07-1993 "ROOKSBRIDGE" were run through the machine before it was finally switched off.

(I managed to grab one)!

Photo: J Rigarlsford.

The fateful day for the dairy at Rooksbridge came in July 1993. After over 120 years, production ceased at Rooksbridge on July 2nd. The Rooksbridge production and any moveable equipment was shared between the remaining Unigate bottling factories at Totnes in Devon and Marshfield in South Wales.

Even this could not save a once huge company such as Unigate as a productive dairy operation. It eventually sold out all of its liquid milk division to Dairy Crest in 2000. Even the St Ivel operations at Evercreech, Wooton Bassett, St Erth and Totnes were later reduced or closed down.

While other national dairy companies phased out doorstep deliveries, Unigate vowed to keep them going. So far, Dairy Crest has continued with that promise

(But who knows for how long)?

Sadly, I believe what is left of the company now goes under the name of 'Uniq' and makes sandwiches for 'Marks and Spencer'!

Mendip Industrial Estate.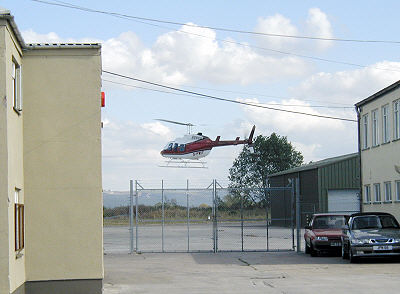 The old dairy site lay empty and declined badly for a couple of years, suffering from unofficial visits by gypsies, scrap merchants and other vandals!

In 1995 the site was bought and developed as an Industrial Estate by Malcolm King Estates.

Uncannily, The first small company to set up on the new site was a cheese packaging operation. Its Unit, happens to occupy what was once the old cheeseroom area! So cheese has come back to Rooksbridge in a roundabout way!

M
alcolm King piloting his private helicopter into the estate on one of his regular visits.
Photo: J Rigarlsford

The main occupant of the site at the time was 'Hillcrest' a company that repaired and serviced Ex fleet hire cars in preparation for auction etc.

Regrettably, with the site containing hundreds of vehicles, security was a big problem.

Eventually 'Hillcrest' folded.

Mendip Business Park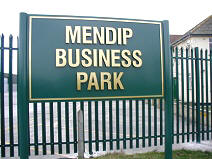 In 2003 the site was acquired and developed further by Tim Roper of Mendip Estates.

Security and renovation of the existing buildings were improved. Many of the buildings such as the former bottling hall and offices etc were divided into smaller units and a number of new units built.

This has brought a number of diverse businesses and new employment to what was the old dairy site.

These include, Engineering, Joinery, Computer, Heavy plant and forklift training, Organic food producers etc.
Photo: J Rigarlsford