Thomas Salvidge

Baptist minister of Rooksbridge

There is a headstone at the rear of the Rooksbridge Baptist chapel with the inscription.

"Thomas Salvidge

died April 17 1889
age 70 yrs.

One of the founder members of this church",
and Deacon since 1846'

Go to...
Baptist Chapel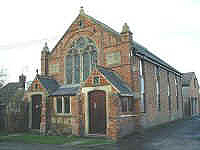 Thomas Salvidge Jnr. of Rooksbridge, being a founder member and Deacon of the Rooksbridge Baptist Chapel must have influenced the daily lives of many local residents.




There were three generations of Thomas's!
(Not to confuse matters, we will call them: Thomas Snr. Thomas Jnr. and Thomas).

Thomas Jnr was born in 1819 the son of Thomas Snr. and Sarah Salvidge who moved to Rooksbridge about 1825.

Thomas Snr. was originally from Winscombe and lived with his wife and children in Ashcombe and Milton before moving to Rooksbridge. Sarah died in 1833 and was buried in Weston. Which makes it likely that Sarah originally came from there. Thomas Snr. then married Ruth sometime between 1833 and 1841.

Thomas Jnr. married Mary ? from Badgworth, and were living and farming there in 1851.
They were living back in Rooksbridge in 1861. Mary died in 1866
Thomas Jnr married his second wife Christiana Churchill from Huntspill in 1867and they had five children.
Thomas Jnr died in 1889 aged 70 yrs and Christiana his widow died in 1924
Christiana and her five children were living at Grange Farm in1891.

The children were, William, Walter, Thomas, Minnie and Sarah.
William was living at Brent House, in 1910
Walter was living at Tarnock in 1910. He died Jan 23rd 1919 aged 44 yrs.
Minnie Churchill (Salvidge) b: 1881 apparently died aged 17 yrs. in 1898?
The inscription on the headstone at the Baptist chapel describes Minnie as the youngest daughter of Thomas Salvidge (Jnr) This conflicts with the date of birth for Sarah recorded as born 1883 ?
Sarah. Born 1883 died 1927 aged 44.

Thomas was Thomas Jnr and Christiana's third child.
He taught for a while in Canada and later returned to England. Where he married Edith Tovey at Burnham in 1901.
Their only child Grace Cornelia Salvidge was born while they were living in Rooksbridge in 1907. They later moved to Weston.

Grace is grandmother of Heather Stevens who supplied all of the above information. see below.


We believe the Salvidge family lived and farmed at 'Grange Farm' Rooksbridge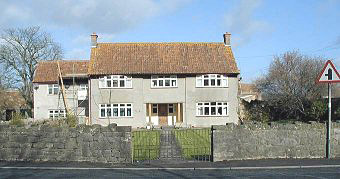 I am indebted to Heather Stevens from NSW Australia. for the above Information on the Salvidge family, to whom she is related. And also for other information relating to the Baptist Chapel.

Also my thanks to Phil Saunders of Badgworth: Who's wife Tina is grand daughter of William Salvidge.