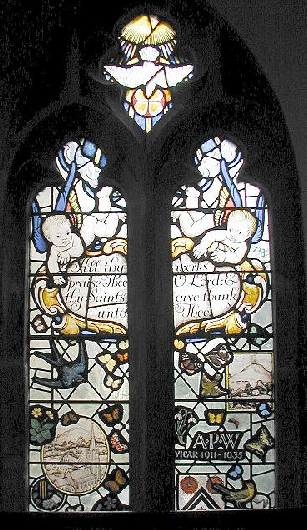 Born in 1855, the Prebendary Archdale (Archie) Palmer Wickham was vicar of St Marys East Brent from 1911 - 1935
He was prebendary of Wells Cathederal. And Rural dean of Axbridge and Burnham district.

Rev. Wickham was related to the Palmer family who were important 19th century Tea merchants and owned Cheam Park House in Surrey. (See below)

The Rev. Wickham was a keen sportsman and played first class cricket for Somerset.

He was also a respected entomologist. After his death his extensive collection of specimens and manuscripts, were lodged at the British museum.

His wife Harriet Strong came from a family of Vicars and brewers!

An Uncle of Harriet Strong was the Rev. Thomas Watson STRONG rector of Brean SOM. from 1882 until his death in 1920 when his son Ernest Strong took over as rector until 1972. (See below)

Another Uncle founded Strongs Brewery in the midlands.

With acknowledgements to Bryan Cooper. (Descendant of Rev. Wickham)

The Rev Wickham and his wife Harriet are buried in St Marys churchyard beneath the south wall of the church beside the path.

In 2005 the main gates to the church were replaced and dedicated to the Rev. Wickham.