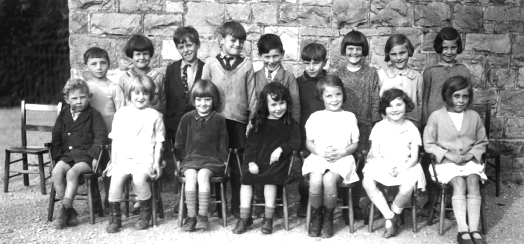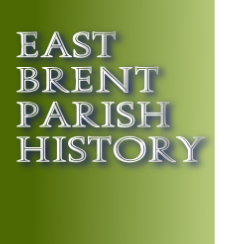 This feature about the Emery family of Rooksbridge is centred mainly around the story of the descendants of George and Hannah Emery who came to Rooksbridge at around the time they married in 1872.
(It is summarised here from material kindly loaned by Margery Fear of WSM who is a grand-daughter of George and Hannah Emery and daughter of Alice Emery who kept this material, which gave us the opportunity to share it).
Hover your mouse over
'People'
to see all people pages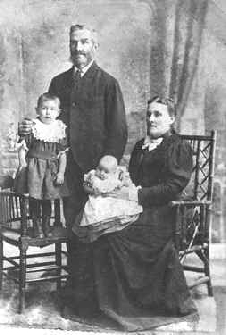 George and Hannah Emery.
With two of their offspring.
George was recorded as a farm servant and his wife Hannah was caretaker of 'The Chapel of the Good Shepherd' in Clare Street. (Gills Lane) Rooksbridge.
They would go on to raise 15 children while living in the tiny 'Mission House' cottage next to the Chapel.
Some of the descendants of George and Hannah would become important and influential members of our community over the following 100 years or so....
The Ancestors of the Emery's can be traced back to John d'Amory or Amory of Bishops Nympton near South Molton in Devon in 1545, and were well established land owners during the reigns of Henry VIII and Elizabeth I.
At that time they must have been a high ranking family, as there is a reference to Arms being bestowed upon the family in the Elizabethan era: Arms confirmed 1564; Visitation by William Hervy, Clarencieux, King of Arms. Viz; Barry Nebule, Six Argent and Gules overall. --(If someone could interpret this and give me some idea of what it meant or what the Arms looked like, I would like to follow it up. :John R.)--
By the 18th century the family fortunes appear to have declined. The senior descendants of the Amorys-- by now mostly recorded as Emery-- had moved from the North Devon family home at Bishops Nympton and were now living in the Bicknoller and Stogumber areas of Somerset.
Some of the Emery descendants would later settle in the Wedmore area. From where George's Great-grandfather would eventually come to East Brent to marry his wife Celia.
The Emery family were from farming stock and although fairly poor after the Agricultural downturn of the early and mid 1800's. By the late 1880's and early 1900's some of them had become very enterprising.
----------------------------
The first local connection we have, is when John Emery of Blackford married Celia Ham of East Brent in 1787.
We have very basic records of his son James. We know he died aged 28 and was buried at Wedmore when his son Charles was 9 years old. There is no record of his wife or a marriage. However it seems that either he and/or Charles mother were at Othery Som. when Charles was born.
Charles Emery married Caroline Walker b: Puriton Som. the daughter of carpenter, Thomas Walker then living in East Brent.
Charles and Caroline had four children: Elizabeth 1845. Mary 1846. George Alfred 1848 and William 1851.
By this time the Emery family appear to be well established in East Brent
Born in East Brent, George Alfred Emery aged 24, married Hannah Durston aged 16 daughter of Charles and Susan Durston of Badgworth Som. at Emmanuel church Weston super mare. 23/9/1872. The 16 yr old Hannah would have been heavily pregnant at the time of the wedding. Victorian moral codes at the time might have been the reason they did not marry in their local church at East Brent?
They set up home in Rooksbridge where Annie Amelia the first of their 15 children was born on 30/10/1872.
(The 1881 Census records George and Hannah and five children living somewhere in Factory lane? (Mendip Rd)?
It must have been shortly after this that the family moved into the cottage known as the 'Mission House' next to the Chapel in Clare Street (Gills Lane).
As can be seen from the brief biographies of the Emery children below, the family members were widely known and had an impact on our village.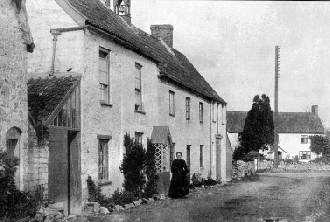 In this early 1900's photograph, It is believed that the lady seen standing outside the 'Mission House' in Gills Lane Rooksbridge, is Hannah Emery?
Hannah and George brought up 15 children here while she also acted as caretaker of the Chapel of the Good Shepherd next door.
The local line of descent to George Alfred Emery.
John Emery Blackford Som.
m:1787 Celia Ham (E Brent) Som
I
James Emery
b:1802 Wedmore Som
m: ??
d:1830 Wedmore
I
Charles Emery
b:1821 Othery Som
m:1844 E Brent Caroline Walker (East Brent) Som
d:1884 E Brent
George Alfred Emery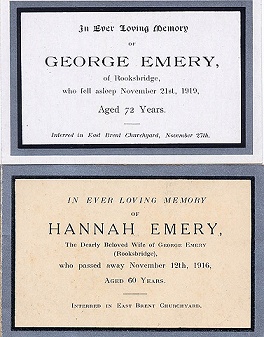 George Alfred Emery
b:1848 S Brent Som
d:1919 E Brent Som
m:1872 WSM
Hannah Durston
b:1856 (Weare) Som
d:1916 East Brent Som
The descendants of George and Hannah Emery.
Below are the 15 children of George and Hannah. (Some members of the family believe there might be a 16th child who died at birth? There is one mention of a Thomas born before Alice? but this cannot be confirmed).
Brief summaries of details of the children and descendants of George and Hannah are shown below. Some we have little knowledge of, while what is known of others gives quite an interesting insight to life at the turn of the century. The lives of William, Bessie, Edward and Charles etc. for instance, are such that I have given separate pages to these individuals, which can be viewed by clicking their names below.
Annie Amelia Emery
b: 30 Oct 1872
m: 25 May 1901 to ? Hewison at Cardiff?
d: ?
Annie was still living at home aged 23 and is later thought to have gone into service in Cardiff S Wales?
William Emery
b: 20 May 1874
m: ? Ethel (?)
d: ? possibly in Africa.
It is not known how or when William died, although the family tried to find out what happened to William, all contact ceased in 1920!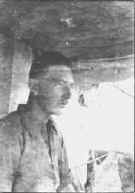 William went to Africa, where he employed teams of locals while contracting to build Railroads in Rhodesia and the Cape Colonies etc. And there are letters from him giving some idea into the hard work and risks involved in railroad building.
William married Ethel ? from Kent while home from Africa. He later abandoned her and returned to Africa. (There are some sad and poignant letters from Ethel pleading for him to get in touch)!
Frederick George Emery.
b: 10 Feb 1876
m: Joanna Charlotta Viser
d: April 1946
Frederick married Joanna, a Boer lady which Frederick no doubt met while serving in the Boer War. They married in Johannesburg after the Boer war.
Joanna apparently had been used to having servants in Africa and found the life of a farmers wife in England to be quite hard!
She had a bad start to married life here, where she was met with much hostility from her mother-in-law Hannah, who called her the enemy and told her she was not welcome here!
She went back to South Africa to have her first baby Bessie in the care of her mother. Returning to England with great determination to be a good citizen, she proceeded to have another daughter Elsie and then two sons JohnJohn and Frederick without any family help.
They moved from their cottage opposite the Village Hall at Biddisham to Slade Lane. Tarnock, where Edward Jesse was born nine years after Frederick.
Johanna went on to become a popular figure in the area, where she delivered most of the babies in the surrounding villages and prepared the dead for their funerals.
After his return from service in Africa after the Boer war, Frederick and his brother Charles set up a dairy business at Manor Farm Tarnock. They gave up the dairy when Charles became manager and director of CVD Cheddar Valley Dairy Co. in Factory Lane. Frederick went back to work full time at his Slade Lane farm at Tarnock.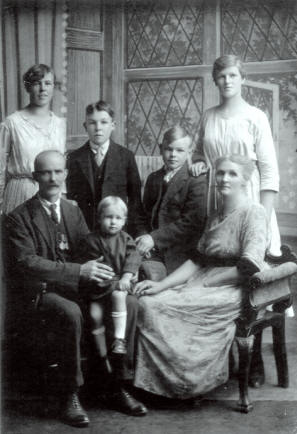 Frederick George Emery and family
Rear l-r: Bessie, John John, Frederick and Elsie.
Seated: Frederick Emery, Jesse, and Johanna.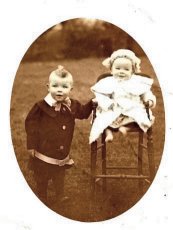 Bessie married Jack Dyer at Mark in 1934 and they had two sons. The oldest of which received an MBE from the queen for services to the Army and Rugby.
Elsie married Arthur Tincknell and had one son John. After a divorce she married Walter Grimstead.
JohnJohn worked for some years for the Cheddar Valley Dairy.
He married May Ward from Bristol. They had two children: Johnjohn and Heather.
Frederick married Iris Smith and they had four daughters and lived in Easter Compton.
Jesse married his Belgian wife Salange who he met while serving in WW2. They had 3 daughters.
Jesse became a farmer at Haven Farm. Tarnock
I am indebted to Heather Redman, granddaughter of Frederick Emery, for the above notes and images of her family.
It is thought that this is a photo of Jesse and his adopted brother Donald born 1924?
Bessie Emery.
b:18 Jan 1879
d: 1896.
Bessie at the age of thirteen was working as a servant to Archdeacon George Anthony Dennison at East Brent
Sadly Bessie would die at the young age of 17 possibly of TB.
Young Bessie left a legacy of poignant poems about her thoughts and family life in an old exercise book.
Edward John Emery
b: 8 Feb 1880
m: 28 Oct 1908 Florence Mabel Harvey at Peshawar India.
d: 17 Sept 1916. POW Baghdad.
Edward (Ted) was to follow a military career and served with Dorset regiment at Poona in India and later During WW1 with the Indian Expeditionary Force in Mesopotamia. He was captured at Kut, and died as a POW and is buried in the Baghdad War Cemetery in Iraq. His name is inscribed on the War Memorial at East Brent and also on the memorial plaque at the old Baptist Chapel in Rooksbridge.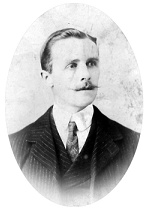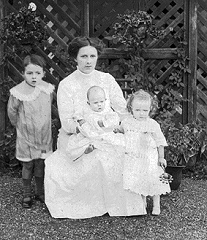 Edward and Florence had three children. Teddy, Sylvia and Vera and were living in India at the time of Edwards death.
They are then thought to have returned to England.
Teddy Jnr was killed in action during WW2.
There are letters to his family in Rooksbridge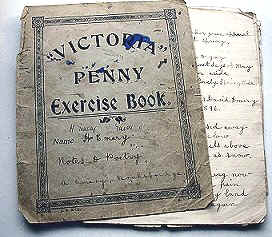 Charles Emery
b: 16 Dec 1881
m: ? Fanny Woodward of Bristol.
d: 1954
Charles and Fanny Had three children. David, Alberta and Christopher.
note: Charles brother Bill in one of his letters home, mentions 'Charlies bereavement of the little girl'
Was there another daughter?
David (seated on floor at front) became manager of the Cheddar Valley Dairy. until it was sold to Horlicks Ltd in the late 50's. He married Sybil and they had two children Rex and Norma.
Alberta (Berta) had a daughter who was given up for adoption.
Christopher became a refrigeration engineer and agent.
He married Peggy and they had a son and daughter, Peter and Carol.
Charles 'Charlie' and his older brother Fred began a dairy business at Manor Farm Tarnock in the early 1900's.
Soon after, Charles would become manager and then a director of the Cheddar Valley Dairy in Factory Lane Rooksbridge. A large employer of local people for many years.
Charles was regarded as an expert cheese maker and pig breeder. He was also a prominent Freemason.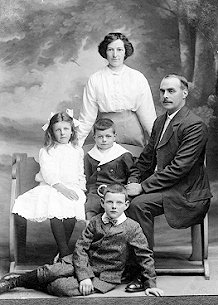 Roland Jesse
b: 4 Jan 1884
m: 8 Nov 1909. (Anne Wildgoose b:1890 Buxton Derbyshire d: 1953).
d12 Dec 1931
Roland became a cheese maker under his older brother Charles.
He moved to Buxton to manage a dairy there and later to manage a dairy at Ripon in Yorkshire. Anne developed asthma after double pneumonia and they were advised to move south for her health sake. The lived for a very short while in S Wales before moving back to Somerset and finally settling in West Pennard to manage Pouparts Dairy. Where, according to his wife Annie "He very nearly worked himself to death" producing cheese during WW1. When the dairy was sold to Express Dairies, Roland started dairy farming at 'Mulberry Farm' Where he died of kidney failure in 1931 aged 47.
After Roland died Annie sold up the farm and opened a small general store in the village of West Pennard. Roland's brother Charles kept in touch with the family and gave Annie some introductions to wholesalers etc. and she was able to provide an income for the family.
There is a story that, after Charlie's son David became manager of CVD, he visited Annie and told her that because of rationalising the business at CVD, he could no longer supply her with butter and cheese at the privileged rates that his father always had. Coming from outspoken northern stock. Annie told him what to do with his butter and cheese!
For more about Annie Wildgoose.
Check out the Wildgoose family Website.
Roland and Annie had five children. Edith 1910, Roland Jnr. 1912, Maurice 1914, Dennis 1925, and Violet 1928.
Most of the children had a talent for music, and were choristers at the local church and played piano or organ etc.
Edith became a primary school and music teacher. She was organist at West Pennard church.
Roland trained as a carpenter.
Maurice was a pharmacist.
Dennis trained as a jeweller and watchmaker before serving in the RAF from 1943. After several years in the RAF, he was active in local government and became a JP. He emigrated to Australia in 1967.
Violet looked after her semi-invalid mother until she died. She then ran the family business for some years.
These notes of Roland and Anne Emery and their descendants, are taken from research carried out by Dennis Emery above.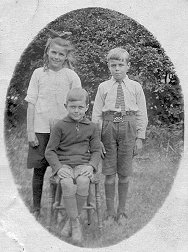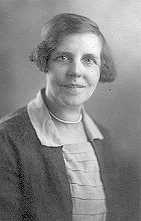 It is believed this photo is of Edith,
Roland Jnr. and Maurice.
Margaret (Maggie) Emery
b: 27 Nov 1885
m: ?
d: ?
Not much is known about Maggie except that by the age of 10 years old, she was living with an uncle and aunt in Weston super mare.
It seems the family did not want to say much about her, for some reason?
Edith Fanny Emery
b: 26 Jun 1888
m: ? Archie Edgar Wilkins (Cardiff) b: 1888 d: 1928 aged 40yrs
d: after 1950?
Edith married Archie Wilkins in Cardiff.
From some faded family photo's, it appears that Edith enjoyed her tennis. And Archie is seen in military uniform. Possibly during WW1?
They had a son. Norman and a grandson Peter.
Edith remained in Cardiff after Archie died. From photo's that appear to have been taken in the 50's or 60's it seems that Edith spent a lot of time visiting and being with her younger sister Alice in Brent Knoll. (Below).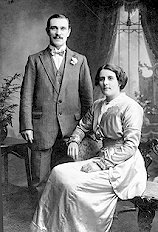 Alfred James Emery.
b: 11 Oct 1890
M: Nellie Binning 19.3.1910 at Weare. Nellie died: 1917. Possibly of T.B.?
Children:
1910 Alfred George who married Dorcas Cross. The ran the Wellington arms Rooksbridge for several years.
1911 Ernest William.
1915 Ruth Lily. M: Eric Mapstone. Ruth worked at Cheddar Valley Dairy for several years.
1916 Kathleen Jessie.
1920 m: Annie (Nancy) Sweet ?
There is very little information about Alfred and Nancy apart that he and Nancy kept various pubs.
One in Steeple Ashton, Wiltshire?
(Above information on Alfred Emery, from Jenny and George Binning).
George Durston Emery.
b: 11 Jun 1892.
m: ? Beatrice ? d: 1943. (George later remarried Florence Crook. m:? ).
George's wife Beatrice was disabled but they had a wonderful relationship.
They lived in 'Mudgley Wall House' in Mudgley Lane Rooksbridge.
After Beatrice died George remarried . His second wife Florence? is seen here on the left, with Georges sister Alice Emery. Florence was the widow of Ben CROOK and ran the Wellington Arms
There was a son.. 'Young George' who it is believed he and Beatrice adopted? Georgie married Dorcas Cross of E. Brent and in 1958 became landlord of the Wellington Inn at Rooksbridge.
Georgie and Dorcas had a son Stephen.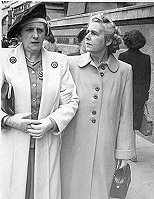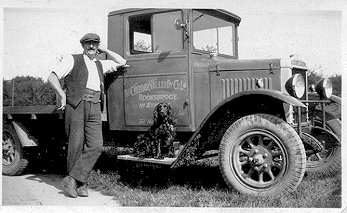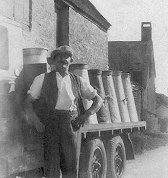 George worked with and for his brother Charles at Cheddar Valley Dairy.
Here he is seen in the 1930's with his dog and milk lorry, which was probably then, the ' Pride of the fleet' !
The lorry seen here appears to be a 6 wheeler, which would be unusual for the time?
Francis David Emery.
b: 11 Jan 1895
d: May 1897
Little Francis sadly died at only 16 months old. (Written shortly before she herself died, one of Bessie's poems tells of the sadness the family felt).
Arthur John (Jack) Emery
b: 4 Dec 1896
d: 30 Jan 1951
According to the Labour Certificate issued to all school leavers after the age of 13 to allow them to work. Jack left East Brent school in 1909 just before his 14th birthday with a full attendance record.
He appears to have been employed by his older brother Charlie at the Milk Factory.
However, in 1920 at the age of 24 Jack was committed to Tone Vale Mental Hospital. And despite later attempts by his sister and family to get him released, he remained there for 30 years until he died of Pneumonia in 1951aged 55. From the Hospital report it seems he was found dead on the morning of 30 Jan 1951.
The reason for Jacks long commitment is not known. But from his letters home to his family, he appears to be quite lucid with a reasonable education?
Alice Mary Emery
b: 26 Sept 1899
m: 24 July 1924 Percy James Hatcher. b: 1898
d: 5 April 1968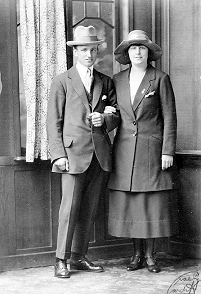 Alice was the second youngest of the family and throughout her life, was one of those modest people who would quietly look after her family and friends without fuss. For instance she tried many times over the years to no avail, to get her older brother Jack released from Tone Vale Mental hospital! She also tried to discover how and when her brother Bill died in Africa. And she appears to have been on hand when her parents were ill etc.
It is thanks to Alice, that she kept much of the family's documents, photo's etc. which have passed down to her daughter Margery and which now allow us to share some of the Emery family story.
Alice along and her husband Percy Hatcher, were keen ballroom dancers, they were active in many local community events in Brent Knoll and the surrounding area. they and also served on the committee of the local British Legion.
Alice's husband Percy Hatcher had served in WWI. Percy was a local butcher and was later employed until he retired, by his brother-in-law Charlie Emery at Cheddar Valley Dairy in Rooksbridge.
They had three children. Brian, Sylvia and Margery.
Brian (known as Jim) married a Canadian girl Margaret and joined the Canadian Air Force. They had two children: a son Brent and a daughter Colleen.
Sylvia married Hubert Mellish and they had three daughters. Julie, Trudie and Kirstie.
Margery married Ivor Fear and they had two children, Martyn and Lynda. They later divorced.
Gladys Elizabeth Emery.
b: 24 Apr 1904
m: 18 Apr 1928 Bert Barnstable of the Post Office Brent Knoll.
d: ?
divorced?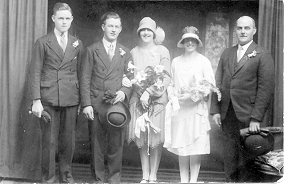 Gladys the youngest of the Emery siblings was born when Hannah was 48 years old.
They had a daughter Elizabeth Hannah
Gladys and Bert divorced when daughter Elizabeth was about 4-5 years old.
Elizabeth married Geoffrey Sweed.
'Liz and Jeff' moved to Rhodesia and then on to Australia, where they now live with their 4 children.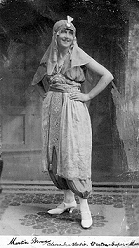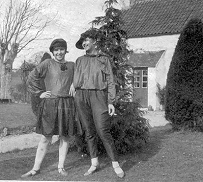 From photographs, the young Gladys appears to have been quite a sophisticated lady.
Gladys seen here on the left with a friend. Wearing the latest 1920's styles.
And right: Gladys the showgirl !