Mr Henry Phipps John WOODWARD (1898 - 1966)
Farm agent and politician.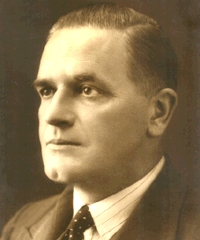 Born 04/04/1898
At Brent Knoll, Somerset, England
Son of Frank Woodward, general dealer, and Mary Jane Randall. Of Church Farm East Brent.
He was educated to elementary level in East Brent and initially worked with his father, but later became a produce agent and farmer in East Brent.
He served briefly during WW1 as a private in the
Inns of Court. Officer Training Corps
He married Ethel Victoria on 11 April 1922 and had 1 daughter and 1 son.
Henry Woodward migrated to New South Wales Australia in 1922 and was a farm produce agent and company director.
He sat in parliament as a member of the Labor Party but joined the Liberal Party after leaving office.
Member of the NSW Legislative Assembly 27 May 1944 29 Mar 1947
Member for Lane Cove NSW 27 May 1944 29 Mar 1947
Australian Labour Party (ALP); after defeat joined the Liberal Party and became president of the North Sydney branch.
He died 03/04/1966
at Wollstonecraft, New South Wales, Australia
With acknowledgement to Jane Jones New Zealand