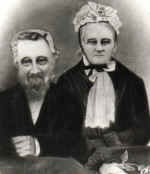 W
hat follows is a fascinating tale of the early life of the Fry family who farmed in what is believed to be North Yeo Farm. White House Lane, Rooksbridge during the late 1700's to early 1800's. And of Isaac and Elisa Fry until they emigrated to Australia 1859.
In the 1700's the Fry family were most likely to have been quite well off. The fact that Isaac's Grandfather was educated and could write indicates this. However over the years, And with the effects of the Agricultural revolution in the 1700's, the family fortunes declined and some members of the family emigrated to a hard and pioneering life in Australia, while some other members of the family eventually ended their lives in the Axbridge workhouse!

This perhaps gives an insight into the decline of many influential farming families. And also the reason why so many of our ancestors migrated to the colonies during this time.