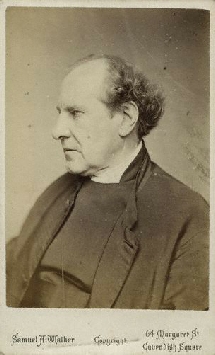 The Rev. George Denison will be forever remembered by the people of East Brent for what he called his "Two hobbies" !
These were the "Construction of the East Brent Waterworks" on the side of the Knoll. Which brought clean drinking water to the village. Whereas before, water was taken from just two shallow wells which were prone to contamination from the drainage of the houses and land.

His other hobby was the institution of The "Harvest Home" ! Which came from a suggestion from his then churchwarden John Hicks in 1857. The first ever 'Harvest Home' was held on Sep. 3rd that year, and every year since, except for during the two world wars and in 2002 because of the Foot and Mouth outbreak!

He was educated at Eton College and Christ Church College, Oxford, and by a private tutor, the Rev. Charles Drury. In 1829 he was elected a fellow of Oriel College, and in 1830 gained his M.A.

He was editor of the Church and State Review from 1862 to 1865, and a regular contributor to religious, political and social controversies.

He was a college tutor at Oriel from 1830 to 1836, and in 1832 was ordained and served as curate of Cuddesdon, Oxfordshire. In 1838 he became vicar of Broadwindsor, Dorset, which was in the gift of his brother Edward, Bishop of Salisbury. In 1845 he moved to East Brent where he remained vicar for the remainder of his life. He became Archdeacon of Taunton in 1851.

It is thought he could have risen to one of the very highest positions in the church. However his fearless and outspoken views on the way the church was moving at the time, is thought to have displeased many in the high church. And is probably why he remained vicar of East Brent for the rest of his life.

Archdeacon Denison was a Tractarian, an Oxford group which supported the inclusion of the Catholic church religion within the Anglican church.

In 1856 he was prosecuted in the ecclesiastical courts over his doctrinal position on the eucharist (
Ditcher* v. Denison
), winning an appeal against his deprivation in 1858.

After winning his appeal against the charges brought by the Rev. Ditcher of Brent Knoll, on his return from London by train, he was greeted by every available parishioner at Highbridge Station who escorted him and his wife in their carriage to the boundary of the village. Where they took the horses from the shafts of the carriage and it was drawn by the parishioners a mile and a half to the church, where a thanksgiving service was held. And then drawn home to the vicarage.

* Rev. Joseph Ditcher.
Vicar of Brent Knoll.