Post Office Rooksbridge
1788. The earliest reference found to the house is in the deeds of 1788. When the house appears to be two properties and a garden. (Which it still appears as, in the 1840 Tithe map).
In 1788 James DOVEY and wife Elizabeth lived in one part and Edward GROVE and his wife Unity lived in the other.
In this year a 1000 year indenture was made between the above and Richard COLSTON.
(In early 1800's Richard COLSTON is also recorded as owner of the property next door now the Wellington Arms).
1788 DOVEY and GROVE sell to R COLSTON (Linen draper) for £18. When he died in 1817 it was left to his daughter Diana. Upon her death in 1878 it was left to her son by her 2nd marriage Richard Colston TUCKER.
1831 a BOWERING appears to be involved when he assigned part to a MILLARD?
1838 MILLARD assigns to Isaac BOLEY (Cordwainer) Who then sells a part of the property to Richard Colston TUCKER.
It was about this time that the first reference to the property being a shop appears.
So… In 1840 it was two properties. One owned and occupied by Isaac BOLEY and the other owned by Richard Colston TUCKER and occupied by a John CRANDON
Between 1838 and 1843 MILLARD and TUCKER were involved in various deals involving a garden plot. In 1843 when TUCKER owed MILLARD £100, MILLARD bought the property for £20 it being valued at £120.
1841 census. Shows Maria GLOYNE running the shop.
Maria GLOYNE. 26. Shopkeeper
Nathaniel BAKER 11
Susan BAKER 8
Elizabeth BAKER 6
1851 census Shows Nathaniel BAKER running the shop.
Nathaniel BAKER 20 Draper and Grocer
Sabrina BAKER (Wife) 24
Elizabeth BAKER (Sister) 16
John BAKER (Brother) 25 Tailor
1852 Millard sold 'House, Shop and gardens' to George PANES of Blagdon for £215. Which is probably when the two properties became one.
1855 George PANES died and left the title valued at £400 in his will, to his daughter Sabrina wife of Nathaniel BAKER
1857 Nathaniel BAKER died.
1859 Sabrina BAKER married Arthur COOK
1861 census
Arthur COOK. 30 Shopkeeper
Sabrina COOK (Wife) 33
Elizabeth BAKER 7
Arthur BAKER 4
John Henry COOK 1
Charity PANES 65 Mother in law.
THE SHOP APPEARS TO HAVE BECOME A SUB POST OFFICE SOMETIME BETWEEN 1861 - 1871
!871 census
Charles HATCH 67 Postmaster and General Shopkeeper
Harriet HATCH (Wife) 63
Clement HATCH (Grandson) 16 Postal Messenger.
(The COOK family do not show in the 1871 census)?
1881 census
Arthur COOK 49 Farmer of 37 acres.
Sabrina COOK (Wife) 50
John COOK (Son) 21
Sydney COOK (Son) 16
While still living at the shop, it appears Arthur COOK turned his hand to farming. While his wife Sabrina continued to run the grocers side of the shop? Possibly along with postmaster Charles HATCH?
Charles HATCH the Postmaster, lived at 'Rose Cottage'
Charles HATCH. 77 Postmaster / Grocer?
Harriett HATCH 73 Grocers wife?
1891 census
Arthur COOK 59 Grocer and Farmer
Sabrina COOK (Wife) 63 Grocer
Margaret COOK (Daug) 27 Grocers' Assistant
John COOK (Son) 29 Farmers son
Sydney COOK 25 Farmers son
1889 – 1919 (Kellys Trade Directories) A Charles KING was Postmaster
1896 Arthur COOK died.
1901 census
Grocers Shop
Sabrina COOK (Widow) 74 Shopkeeper
Margaret COOK (Daug) 38 Shop Assistant
Sydney COOK (Son) 36 Cattleman on farm.
It is assumed the COOK family still lived in the shop?
Charles KING 43 Saddler and Postmaster.
Jane KING (Wife) 42
Caroline KING (Mother) 74 Widowed
No record in 1901 census of where Charles KING lived? Possibly nearby, after he took the position of postmaster?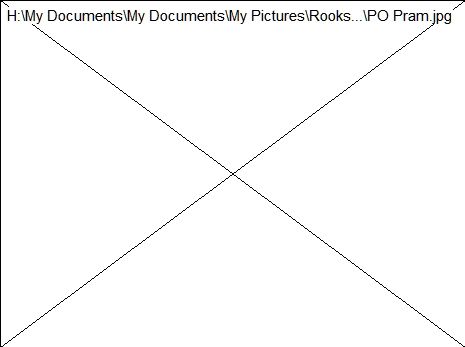 1907 Sabrina COOK died and left the shop to her son Arthur BAKER and a William STAR a farmer from Biddisham.
They sold to Margaret COOK who ran the shop with her brother Sidney.
Local people remember Sidney COOK riding a tricycle.
Image courtesy of Andrew Gilling.
1914 -1919 Kellys trade directory.
Margaret COOK Draper and Grocer.
1919 Margaret COOK died and left the shop to her brother Sidney.
At this time Frederick CANTLE was renting and running the shop.
1927 Kellys trade directory
Frederick CANTLE is mentioned as "Draper and Sub-postmaster" at Rooksbridge ?
1932 Sidney COOK died in W.S.M. intestate.
Maud POPHAM nee BAKER, wife of Ernest POPHAM of 'Beacons field House' Rooksbridge was a "Beneficiary being a niece of one of the persons entitled to a share of the estate".
In September 1932 the property was sold to W. G. HARVEY for £550.
The 1000 year lease was changed to freehold.
1932 – 1966 The shop and Post office was owned and run by William HARVEY and his wife.
1966 Sold to B JOHNSON
1969 Sold to W METCALFE
1976 Sold to Keith BELLINGHAM
2008 Keith BELLINGHAM sold the post office and Shop to its present owners Danny and Sandi LAWRENCE.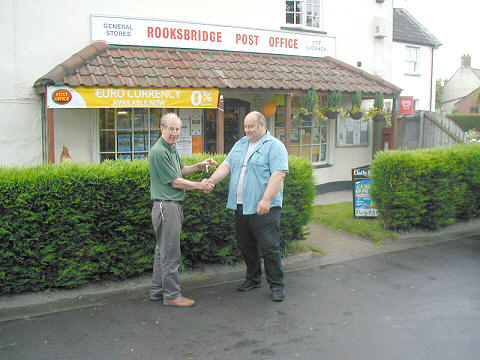 2008 After more than 30 years, Keith Bellingham hands the Post Office keys to new owner Danny Lawrence.
The Rooksbridge Post Office and Stores is now owned by Danny and Sandie LAWRENCE.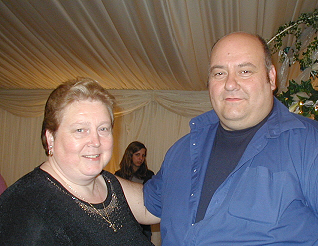 J. Rigarlsford 2013