From Chris Rickards formerly of Rooksbridge in the 1940's, and now living in New Zealand.
Hello John
Thank you for replying to my enquiry so quickly.
Elder Tree cottage did exist, I have my sisters birth certificate to prove it.
1941 to Dennis James Rickards and Evelyn Hannah Rickards a girl Sheila Mae.
Born at Elder Tree cottage on the 21st. April 1941
Address of Father, Dennis James, Elder Tree cottage Rooksbridge East Brent RD. near Axbridge. Douglas Henry Collard registrar.
My father was a sergeant ARP warden and a registered confectioner, my sister was born at Elder Tree Cottage, I can well remember the doctor arriving and saying to me that he had brought a little baby girl with him in his little black bag.
From Rooksbridge we moved to Corsham, where my father worked for the M.O.D. He never spoke of his work there. Maybe it was classified!
Delighted to "join" you, one day I hope to do another trip to the U.K. and will try to fit you in with a stay in the area.
George and his sister Evelyn completed their education here, George as an accountant and Evelyn with a matriculation in music. Mum was a much loved "tom boy" scandalizing her aunts who were prim and proper, climbing trees and sw
My memories
from Chris Rickards New Zealand

I arrived in this world a little before midnight on January 27th 1937, a rather large healthy bouncy lad, as judged by my mothers later comments to me. My birth was registered at the maternity unit of the British Embassy, Montevideo, Uruguay. Why Uruguay you may ask? To answer that we need to look at my families earlier history in England.
My maternal grandfather was born in Cranfield, in the county of Bedfordshire, England. He was one of several sons of George William White, who was a master builder and a gifted musician, playing the church organ for many years.

Arthur Earnest White learnt the building trade from his father, and having done that decided to immigrate to New Zealand in 1902. On the way her heard the Gospel message and became a committed Christian. This was shortly after his arrival in Palmerston North, which influenced his direction for the rest of his life.
Whilst in Palmerston North he heard about the poor and needy in South America, and at first Argentina had his interest. He was commended to that country by the Open Brethren Church in 1904, but on arrival at the port of Montevideo Uruguay, felt that the need was greater in that country and left the ship at this point.

During his work as a missionary he met Evelyn Mary Davey, a missionary girl from Exeter in England. The fell in love, and were married on the 28th April 1911.
On the 13th of February 1912 Evelyn Hannah White was born and became known as "girly" to the locals. Her brother George Ernest was born on the 27th of November 1913. The pair grew up with the local people learning to speak Spanish as well as English.
When mum and George were about thirteen years old, it was necessary for senior schooling that they go to England. The two children were to live at "Hill Top" in Coventry Rd. Nuneaton, a fine lovely old home where my great aunts lived. Aunts Edith Wilkinson nee Davey and her sister Lillian Davey resided here with a family friend who ran the house. Anne Kenning was a much loved person especially with mum who called Edith the "Holy Aunt" inging from rafters, but a delight to Anne Kenning

My father was born on the 3rd. of July 1908, son of Henry James Rickards and Gertrude Colmer. On leaving school he joined the Royal Navy around 1923 as a "boy trainee", possibly in the Portsmouth dockyard. Having then completed the rather vigorous course he was assigned to the great battleship, H.M.S. Hood as a junior seaman. During the many voyages he was influenced by one of the senior officers who was a practicing Christian. At Malta dad became one himself, and this change altered the direction he took from then on.
After serving on the Hood for several years dad was one of many who changed ship during the Hood's refit in Portsmouth in 1929. His new ship was H. M. S. Danae, with the area of patrol to be the ultimate in that it took him to Uruguay. He was stationed in Montevideo harbour on the Rio de La Plata, and on coming ashore was introduced to the church at Reducto. Here he met mum, and the pair hit it off well.
After a few years, around 1931 dad found he had an eye problem which required surgery in England. The Navy took him to Bermuda, then by passenger ship to England where the required surgery took place. He then retired from the Navy. Prior to his departure from Uruguay mum and dad announced their engagement, it was going to be four years before they were to see each other again.
During this time dad lived at home with his mother in Weston Super Mare, England, doing outreach work amongst the needy in the Somerset area.

In 1936 the whole family was reunited for mum and dad's wedding in Exeter, then the happy pair set sail for Uruguay to carry on my grandfathers work. Here I was born. This causing language difficulties as mum was needed as a translator, dad not finding it easy to learn Spanish. Also dad's eye started up, so the pair made the hard decision to leave Uruguay in 1938, never to return.
They at first lived at "West Winds" Weston-Super-Mare, before moving to Bristol.
On October the 9th 1939 my brother Geoff was born, at Nuneaton, mum having travelled up there from Bristol, as by that stage dad was working for the Bristol Aviation Company, B. A. C. and I was aged four.
On the 17th of October 1939 dad was registered as an A. R. P. warden with the rank of sergeant, which he kept till the end of the war when we were at Corsham.
In 1948/1949 Bristol was decidedly getting unhealthy with the Germans bombing the docks, and much of that city being ruined. So the family moved to a quaint village called Rooksbridge, not far from Axbridge. The home was called Eldertree Cottage, and it was here that my sister Sheila was born at home, on the 21st of May 1941. The Doctor informed me that he had brought me a little sister in his black bag!! I informed him that she grew in my mother tummy. My family always being opening that manner.
Of Eldertree cottage I have recollections of the front door which in those days opened directly on to the street, on the right hand side of the house. You can see this in the early photographs. As you entered, there was a doorway straight ahead, but if you turned left into the living room, the stairway was on your right which took you to the bedrooms.
Life was not easy as we did not have much money, and rationing was tight, mum always managed to have us well fed and clothed. She decorated the home around Christmas, and birthdays were always remembered with something special. Mum often recycled material that today we just chuck away. This being an inheritance from her difficult days in Uruguay living amongst the poor and needy.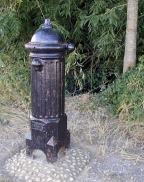 One item that was always an attraction for me was the village pump. This you operated by hand, and of course could be used for naughty things such as getting people, and yourself wet!!! Also at Sunday school I had rather a reputation as being somewhat of a scallywag. No doubt an inheritance from my mother. Sadly change has removed much of that 1948's history with the Welly (pub) having gone, and the Sunday school too. The pump disappeared as well but was recently located, restored, and installed in Gill's Lane, not far from my old home.
Work changes from B. A. C. required dad to shift to Corsham where the vast underground factories were being built. Our move was a little before Leonie was born in June 1943, and ended about two years living at Rooksbridge.
Corsham is a delightful old town with a long and varied history covering such diversity Charles Dickens to the vast underground factories that were part of the war effort. These factories assembled aircraft engines, and housing thousands of tons of bombs. Spring Quarry was dad's area of work.
My memory of Corsham is centred around 22 Meadland Ave. which was one of the many emergency prefabs hastily put up to accommodate the influx of people working on the underground projects.
The home we had was a small three bedroom bungalow, with a dining room lounge combination, kitchen and washhouse combined, and a bathroom/toilet in one. The floor was at first concrete but later was covered with a coating of thick tar. I can well remember all the furniture being shifted out when this was done.
The entire estate was handed over to the local council in the early 1950's who demolished it all, including our home, though the street is still there.
I attended school for the first time here and by all accounts was rather a handful for the teachers of which there were two. The head teacher was a Miss O Bailey who I liked instantly and nicknamed her "Beaky Bailey" and told her many a tall tale such as having a polar bear up a pole in my garden. Such was my active imagination. I started here in 1943, and Geoff in 1945.
After the war was over, dad in 1947 finished working for the B.A.C. taking up a job at Kinmel Hall just out of Abergele, North Wales. This was a girls boarding school called "Clarendon" and dad was to be their chef. A trade he was qualified in.
We had a lot of fun here with several girls teaching us to roller skate, play tennis, and ride bicycles. Three of the girls were princesses in their own right as nieces of the late Emperor Haille Selasse of Ethiopia. The family spending years in gaol when the communists overthrew the country.
The next major change occurred when my grandmother Rickards died, dad's mum. This was on September the 24th 1948. I can well remember being told, and it had some impact on me as I had visited her on several occasions at her home in Weston Super Mare. My parents had been working on a scheme for some considerable while, that of immigrating.
Their first consideration had been Australia, but with the death of my grandmother plus a large bequest from the estate, New Zealand became the option.
So with the support of the estate of grand-mum we flew out to New Zealand in September 1949 to start a new life, a complete break from the aftermath of war. My parents chief desire was the up bringing and education for the four of us bairns.
But you ask why New Zealand? It is here that we turn back the clock to my grandfathers time in New Zealand. He was followed by his brother my Uncle Albert(Lal) White. He was the guarantor for a home and a job, two of the requirements to immigrate to the great down under.
Our time in this great country, New Zealand, has been put to good effect with top education and jobs for the four of us. This being the chief desire of my parents, Dennis and Evelyn Rickards.
Sadly only three of us are left, Sheila died with lymphoma leaving four young children, mum and dad succumbed to old age. Mum first in her late 70's dad aged 88.
Chris Rickards August 2004
The above has been extracted from the story of Chris Rickard, who lived as a small child in Gills Lane for a short while during WW2.
It is published here with Chris' kind permission.